Government General
: "Geeks were right! Some pests consist of solid metal, and they have useful components inside. We must collect as much as we can and use it in our construction."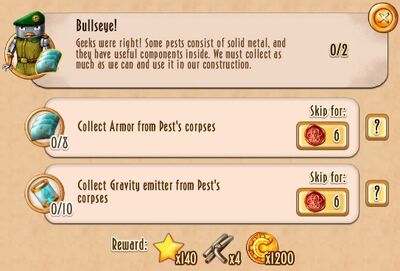 Previous Task: Scientific Speculation
Requirement 1: Collect Armor from Pest's corpses (0/8)
Requirement 2: Collect Gravity emitters from Pest's corpses (0/10)

Rewards: 140 xp

, 1,200 coin

, 4 Pipes
Next Task(s): Clean sky
Task Line: Space Exploration

Ad blocker interference detected!
Wikia is a free-to-use site that makes money from advertising. We have a modified experience for viewers using ad blockers

Wikia is not accessible if you've made further modifications. Remove the custom ad blocker rule(s) and the page will load as expected.