"There is a big road in the east. It is fully destroyed. If you repair it, wanderers will use it."
(2016 04 26) Diplomatic mission expanded this line by 17 tasks, announced with these messages: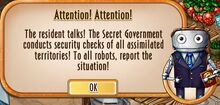 To see the known progression of tasks for this taskline, click the [Expand] ->
Pages in category "Big Road"
The following 29 pages are in this category, out of 29 total.
A

C

D

E

F

G

H

I

M

N

O

R

R cont.

S

T

V

W

無