Launching the satellites into Earth's orbit will allow to protect the Earth from the remains of giant garbage barges.
(2015 11 29) On the way to the Earth's orbit expanded this line by 19 tasks, announced with these messages: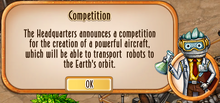 (2017 05 22) Botanical Experiments expanded this line by 14 tasks, announced with this message: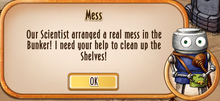 To see the known progression of tasks for this task line, click the [Expand] ->
Unfortunately, the full tree is far too wide to be completely visible on this page, so please look [Here] instead.
Pages in category "Space Exploration"
The following 87 pages are in this category, out of 87 total.
A

B

C

D

E

F

G

H

I

L

M

N

O

P

R

S

S cont.

T

U

W
Ad blocker interference detected!
Wikia is a free-to-use site that makes money from advertising. We have a modified experience for viewers using ad blockers

Wikia is not accessible if you've made further modifications. Remove the custom ad blocker rule(s) and the page will load as expected.